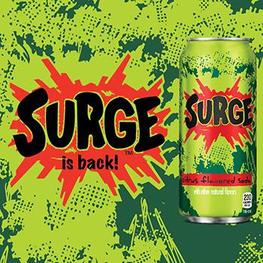 When I travel back to the 90's I get the sounds of Spice Girls and Soundgarden, movies like Jurassic Park and Space Jam, Pokemon and N64 games from Nintendo, Kenen and Kel and Batman on TV, and the drink of the 90's was always Surge. It's something my friends and I always reminisce about when romanticize the warm times of the 90's, along with Pogs, Sega, and Yak Baks. Surge was the drink for late night gaming, laser tag, and watching Saturday morning cartoons.
And now it's back on sale!.. But for a high price. Right now on Amazon it's $90 for a pack of twelve 16oz sodas! That's a bit pricey but may be worth it for a trip back in time. Probably the funniest stuff I read on the internet comes from the Amazon reviews and Surge has a gold mine of comedy in the comment section.
So here's a few to put a smile on your face and the link to the Amazon page to take a trip down memory lane. Play the new Smash Bros 3DS, N64 style, with Surge. Enjoy!
http://www.amazon.com/SURGE-12-16-FL-Cans/dp/B00M2OGS08/ref=pd_cart_recs_2_p?ie=UTF8&refRID=1YYJC4Y4NW2B33JTFJHY
"I am converting my 401k into Surge. I am gonna ride out this market."


"My brother has been in a coma for 12 years. I whispered into his ear that they were bringing Surge back and he shot straight up, did a backflip out of bed and roundhouse kicked a nurse.
The miracle is real. SUUUUUUURRRRRGGGGGEEEEE!"



"My wife told me that she would leave me if I spent our retirement fund on Surge. Silly wife, how else did you think I was going to fit 3 pallets of Surge in our bedroom?!"


"Now if we can convince Doritos to bring back 3D Doritos, I can sit in my living room, playing my Gameboy with my recorded version of Good Burger on VHS playing in the background, and feel like i never left the 90's"


"As I clicked place order, I looked down at my Mtn Dew with disgust and shame. I think she knows shes been replaced."


"The Steve Perry of soda is back......and already sold out within hours....now you understand that we're not f***ing around, Coke. It's a resurrected pop bred for a single purpose....to destroy the race of man...and it'll be here by friday."